Description
Gibson B.B. King Lucille 2013 Near Mint Condition
Incredible condition! near minto collectors grade. Hard to find discontinued model in 2015. Case is super clean as well.
Pair of Bare Knuckle "Stormy Monday" $500+ Gold single etch pickups. Original Gold PAF pickups in case.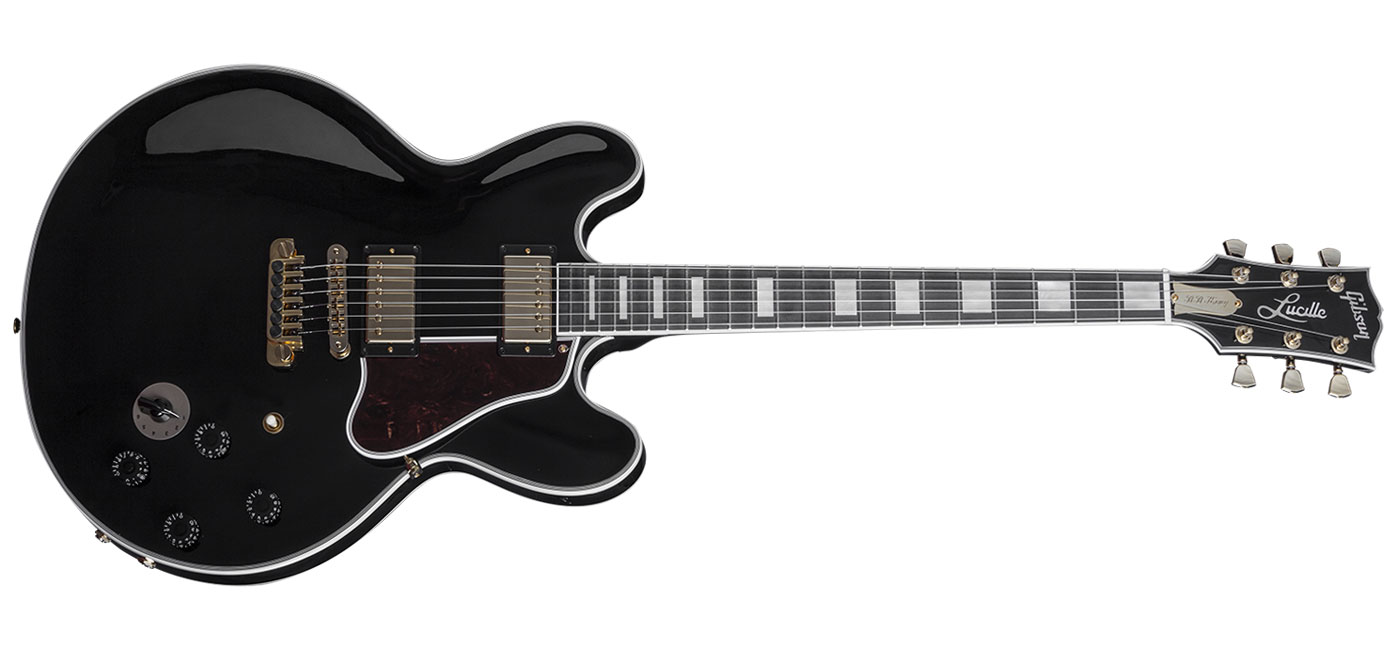 Adapted from the ES-355 to B.B. King's own specs, with superb dual-humbucker tone, top without f-holes, efficient fine tuning tailpiece, and top-of-the-line look.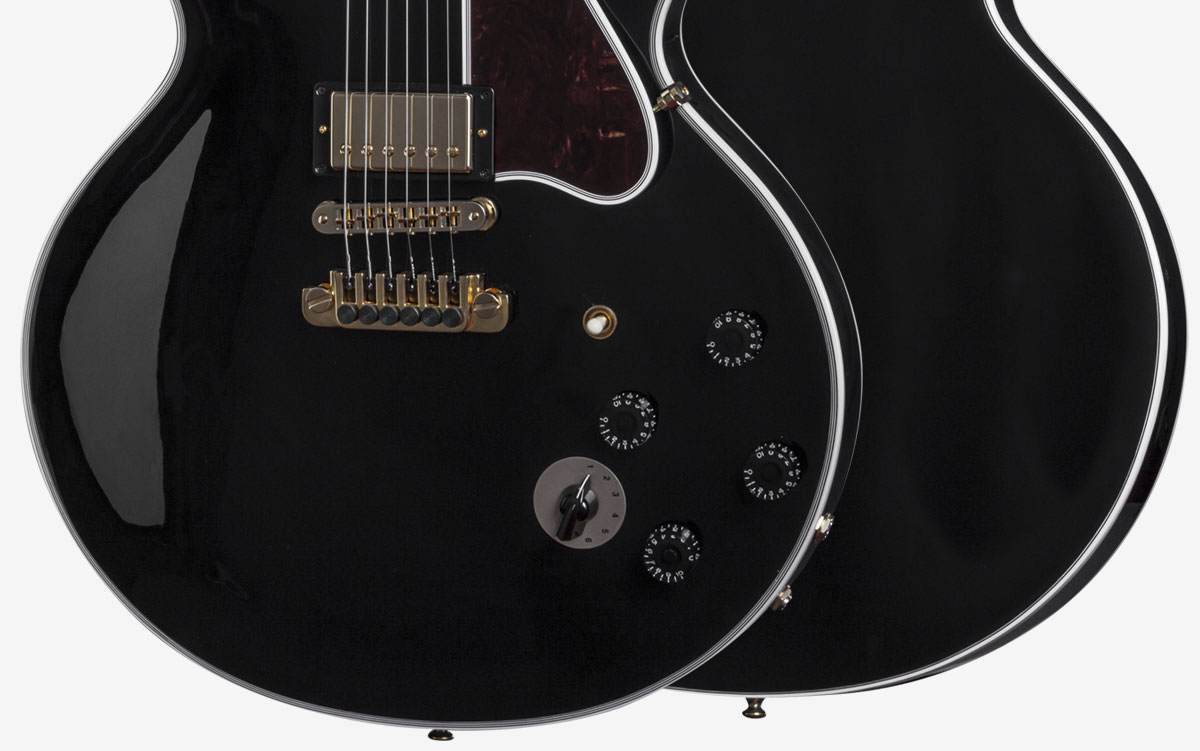 Top
Wood Species:
Maple, Poplar, Maple
Pieces:
3-Ply
Grade:
Plain
Binding:
7-Ply (W-B-W-B-W-B-W)
Back
Wood Species:
Maple, Poplar, Maple
Pieces:
3-Ply
Density:
Plain
Binding:
3-Ply (W-B-W)
Rims
Species Wood:
Maple, Poplar, Maple
Pieces:
3-Ply
Grade:
Plain
Weight
Weight Relief:
Average Weight (body only):
2.3541 kg / 5.190 lbs
Materials Used
Glue:
Franklin Titebond 50
Tonal, Resonant, and/or Technical Effect:
The soundwaves resonate within the hollow airspace of the Maple veneered Body and throughout the solid glue joints.
Body Contour
Carve:
ES (Semi-Hollow without F-Holes)
Neck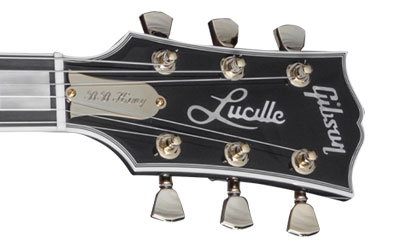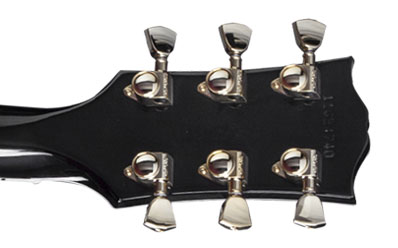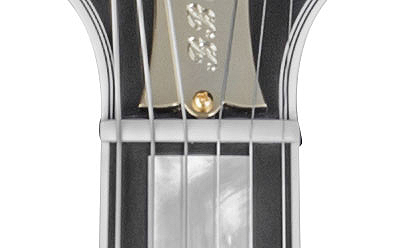 Neck
Wood Species:
Maple
Pieces:
3
Details
Truss Rod:
Adjustable
Profile:
Traditional C
Thickness at Fret 1:
20.828 mm / .820″
Thickness at Fret 12:
24.384 mm / .960″
Other Materials:
Franklin Titebond 50
Average Weight:
566.9905 gm / 1.250 lbs
Peg Head
Type:
SP-2
Inlay:
Mother of Pearl "Lucille"
Peg Head Binding:
5-Ply (W-B-W-B-W)
Logo:
Mother of Pearl "Gibson"
Silkscreen:
Headstock Angle:
17 degrees
Tonal, Resonant, and/or Technical Effect:
The wood, construction, and headstock pitch all contribute greatly to the tone, aiding this guitar's exceptional sustain and depth, and yielding a resonance that can be felt right through the body
Neck Fit
Joint Angle:
4 degrees
Joint Angle Tolerance:
0 deg 0 min 15 sec
Type:
Mortise and Tenon
Adhesive:
Franklin Titebond 50
Gauges Used:
Pitch Height Gauge, Alignment Gauge
Nut
Style:
White
Material:
Corian
Width:
4.2697 cm / 1.681″
Slots:
E: 1.2268 mm / 0.0483 inches
A: 0.9601 mm / 0.0378 inches
D: 0.6934 mm / 0.0273 inches
G: 0.4534 mm / 0.01785 inches
B: 0.3467 mm / 0.01365 inches
e: 0.2667 mm / 0.0105 inches
Fingerboard
Wood Species:
Richlite
Pieces:
1
Shade:
Dark
Fingerboard Details
Radius:
30.48 cm / 12 "
Frets:
22
Nut/End of Board:
4.2697 cm / 1.681″ @ nut, 5.6896 cm / 2.240″ @ end of board
Scale:
62.865 cm / 24.75″
Binding:
White
Side Dots (Color):
Black
Fingerboard Inlays
Style:
Full Block
Material:
Mother of Pearl
Dimensions:
22.479 mm x 27.6352 mm / 0.885″ x 1.088″
Average Weight:
136.0777 gm / 4.800 oz
Finishes


Ebony
| | |
| --- | --- |
| Color Code: | EB |
| Surface Texture: | Smooth/ Hi Gloss 90 Sheen Lacquer |
| Filler: | Walnut |
| Sealer: | 1-1.5 mils |
| Top: | Ebony |
| Top Coat: | Hi Gloss Lacquer/ 90 Sheen 7-8 mils |
| Scraped: | Fingerboard Sides, Body and Nut |
Electronics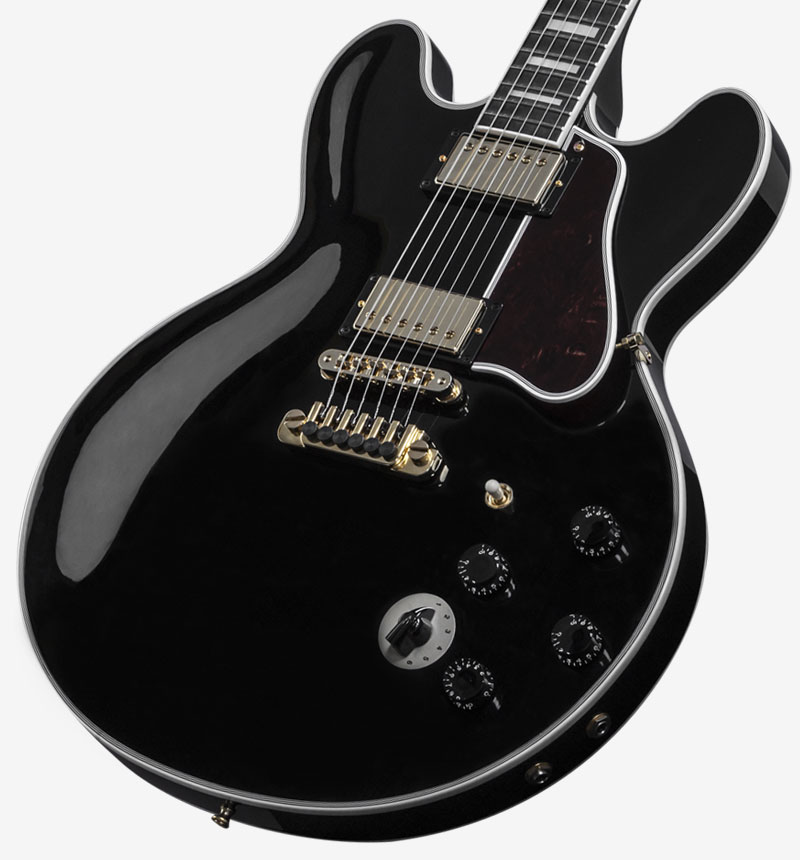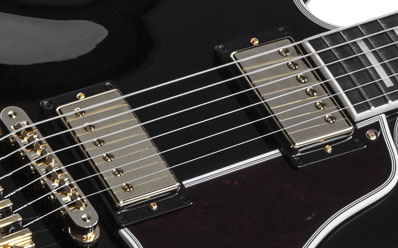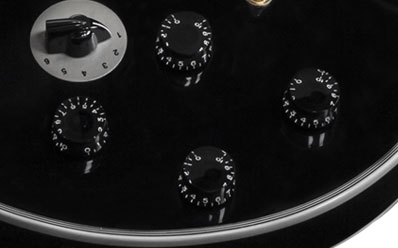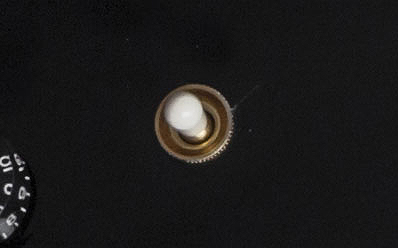 Pickups
Rhythm
Lead
Style:
490R
490T
Winds/Coil: Screw side/Slug side:
5250
5250
Material of Wire (gauge):
Enamel (42)
Enamel (42)
Coil Dimensions (per coil):
6.6294 cm x 1.7272 cm / 2.61″ x 0.68 "
6.6294 cm x 1.7272 cm / 2.61″ x 0.68 "
Coil Material:
Lacquer coated copper
Lacquer coated copper
Coil Winding Process:
Machine Wound
Machine Wound
Pole Piece Material:
Nickel
Nickel
Pole Piece Position from Nut:
47.3075 cm / 18.625″
59.52998 cm / 23.437 inches
Slug Material:
Nickel
Nickel
Slug Dimensions (diameter x length):
4.7495 mm x 1.24206 cm / 0.187″ x 0.489″
4.7495 mm x 1.24206 cm / 0.187″ x 0.489″
Magnet Material:
Alnico II
Alnico II
Magnet Position from Nut:
48.26 cm / 19 "
58.7375cm / 23.125 "
Magnet Dimensions:
6.35 cm x 1.27 mm / 2.5″ x 0.5″
6.35 cm x 1.27 mm / 2.5″ x 0.5″
Polarities:
Screw side is the south pole of magnet
Screw side is the south pole of magnet
Cover:
Gold plated
Gold plated
Qfactor:
5.62
5.62
ResistanceDC:
7.80k ohms
7.80k ohms
Resonant Frequency:
2715.71 Hz
2715.71 Hz
Tonal & Resonant Advancements:
Slightly overwound to give a traditional Humbucker tone with a touch of modern edge

Control Pocket Assembly
Volume
Type:
CTS 500K Linear
Peak Voltage:
1080V
Range:
0-500K
Power Rating:
1/4 watt above 100K ohms
Resistance Tolerance:
500K +/- 20%
Minimum Resistance:
100 ohms
Tone
VariTone
Type:
CTS 500K Audio
CTS DP6T
Peak Voltage:
1080V
250V
Range:
0-500K
Power Rating:
1/4 watt above 100K ohms
3/4 amp at 125 VAC
Resistance Tolerance:
500K +/- 20%
Minimum Resistance:
100 ohms
.015 ohms
Capacitors:
Lead Value
Rhythm Value
.022mf
.022mF
Hardware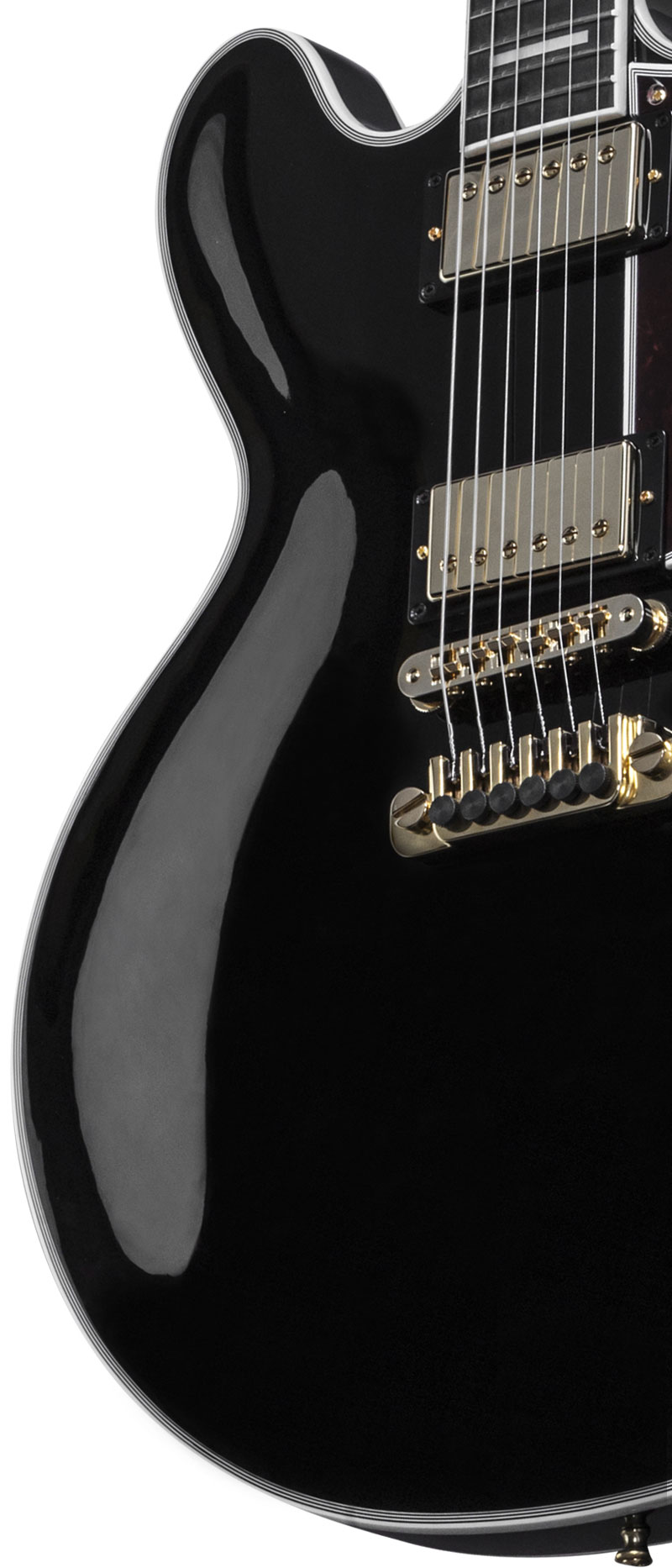 Tuning Keys
Style:
Grover Tulip 102GKM
Material:
Die cast alloy
Weight:
43.0913 gm / 1.52 oz
Tuning Keys Details
Tuning Ratio:
14:1
Gear Type:
Syncronized spur gear system
What is allowable turn:
+/- 4 degrees
Plating specs:
Gold
Part numbers:
430-14168 / 430-14169
String Dimensions
E:
1.1684mm / 0.046″
A:
0.9144 mm / 0.036″
D:
0.6604 mm / 0.026″
G:
0.4318mm / 0.017″
B:
0.3302mm / 0.013″
e:
0.2540mm / 0.010″
Bridge
Style:
Tune-O-Matic
Material:
Die cast alloy
Plating Specs:
Gold
Part number:
430-10123
Weight:
61.235 gm / 2.16 oz
Dimensions of String Slots
E:
1.2268 mm / 0.0483 inches
A:
0.9601 mm / 0.0378 inches
D:
0.6934 mm / 0.0273 inches
G:
0.4534 mm / 0.01785 inches
B:
0.3467 mm / 0.01365 inches
e:
0.2667 mm / 0.0105 inches
Tailpiece
Style:
TP-6
Compensated:
No
Material:
Die Cast Zinc
Plating Specs:
Gold
Part number:
430-11183
Weight:
113.3981 gm / 4.0 oz
Output Jack
Style:
1/4″ mono with dual tip contact (both pickups)
Strap Buttons
Material:
Brass
Plating Specs:
Part numbers:
430-19521
Weight:
2.268 gm / 0.080 oz
Plastics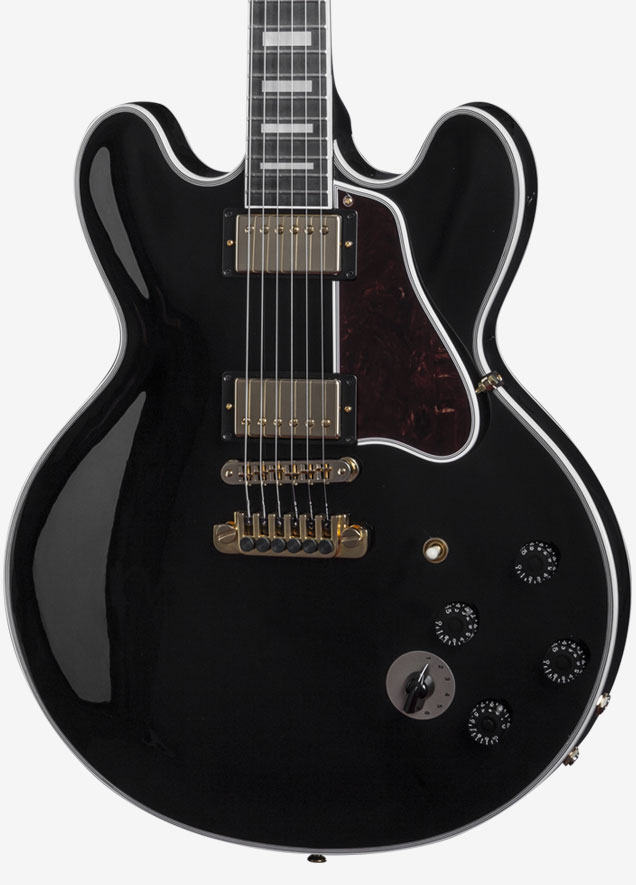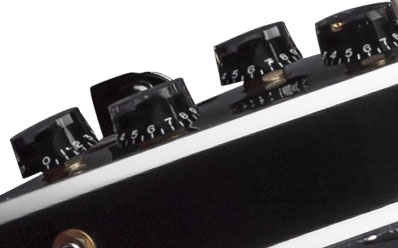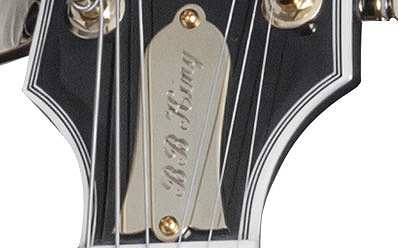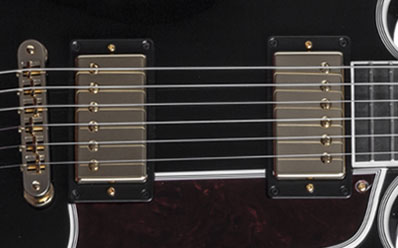 Truss Rod Cover
Style:
Gold engraved "B.B. King"
Part Number:
430-19645
Knobs
Style:
Black Speed Kobs
Part Number:
430-19267
Dial Pointers
Yes/No:
No
Control Plate(s) (Backplate Cover)
Style:
Black Plastic
Part Number:
380-1228
Switch Washer
Style:
Gold Varitone
Part Number:
430-19302
Trim Rings
Style:
Black
Part Number:
440-13850
Accessories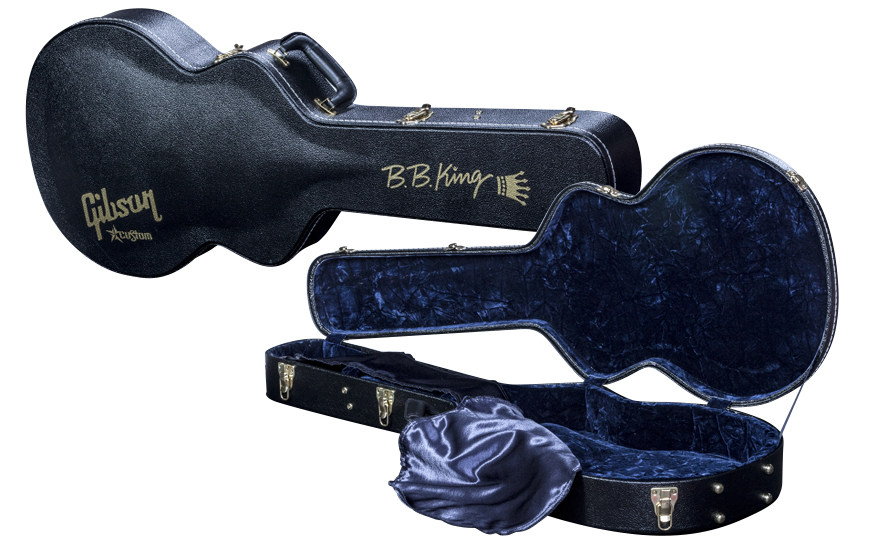 Case
Style:
Hard Shell
Color:
Black
Strap Locks:
No
Tools:
Manual:
COA/Other:
Gibson Memphis COA